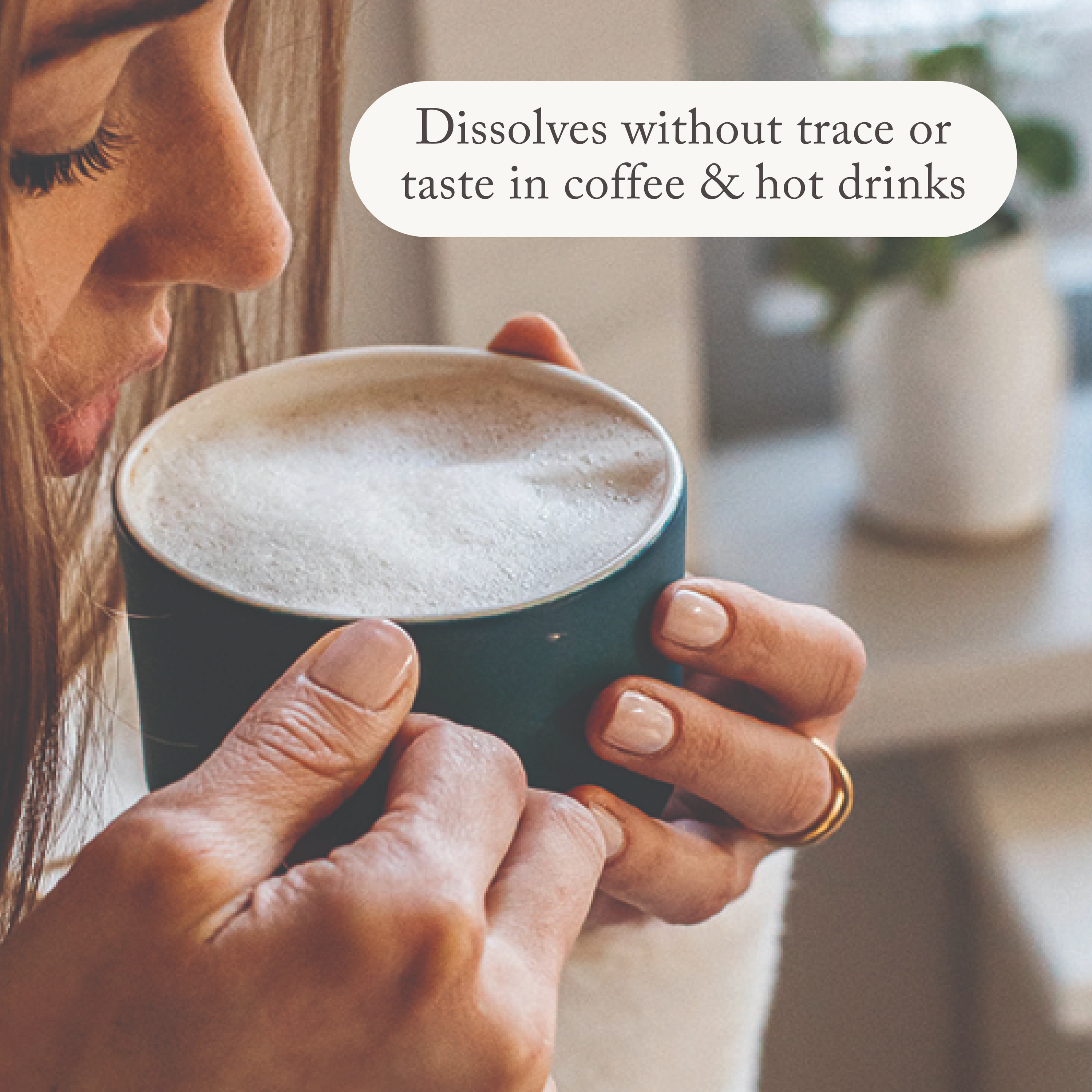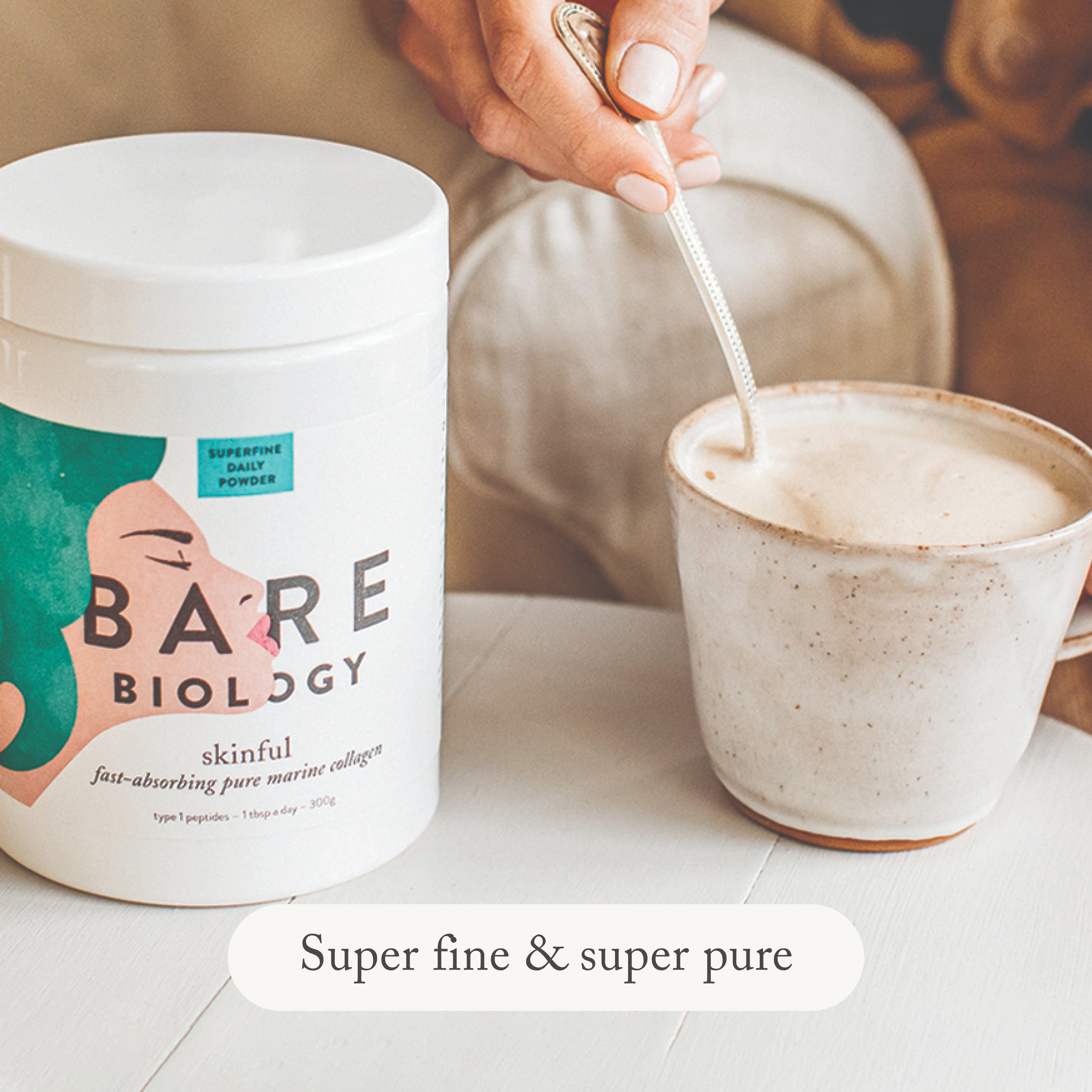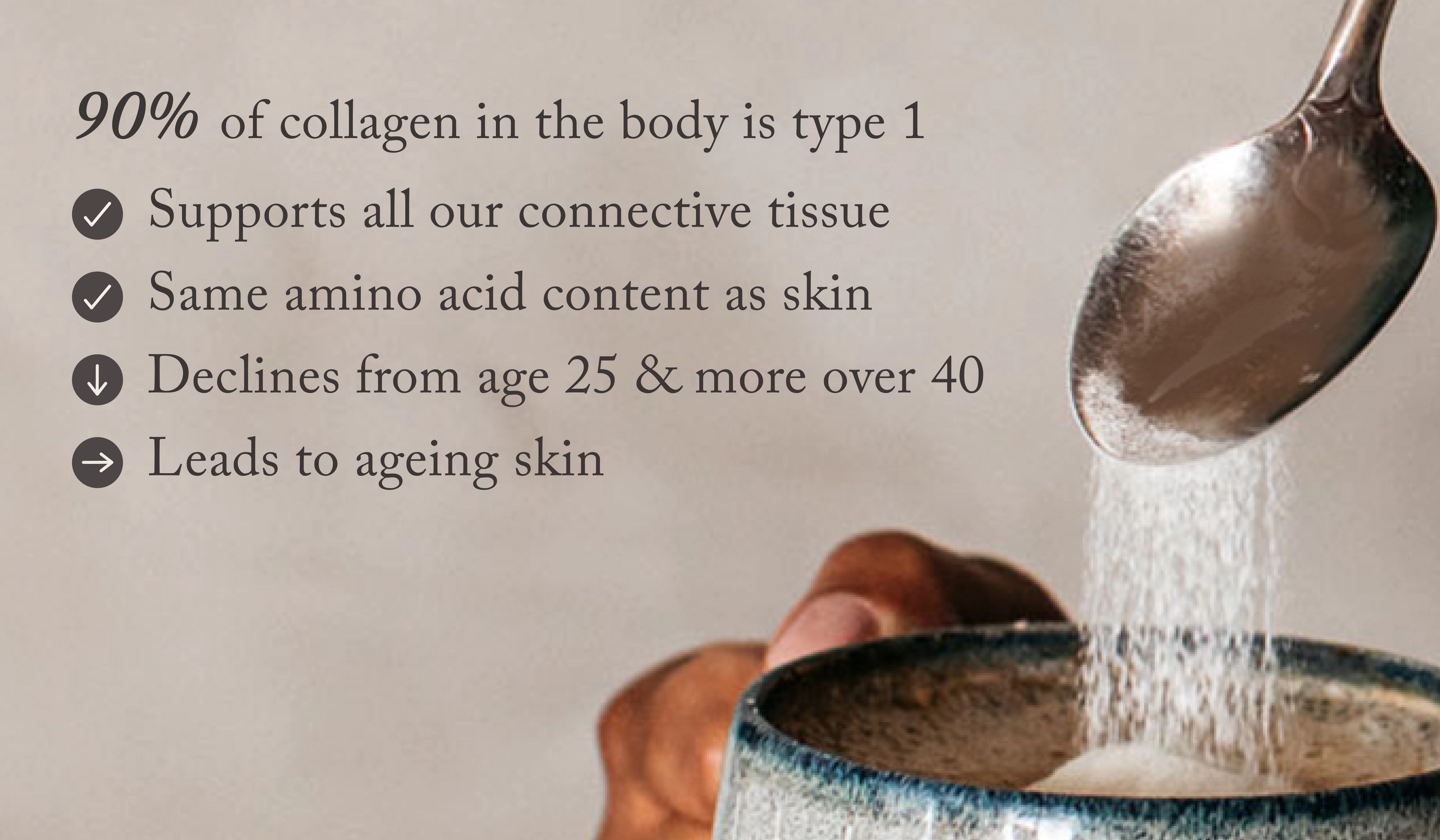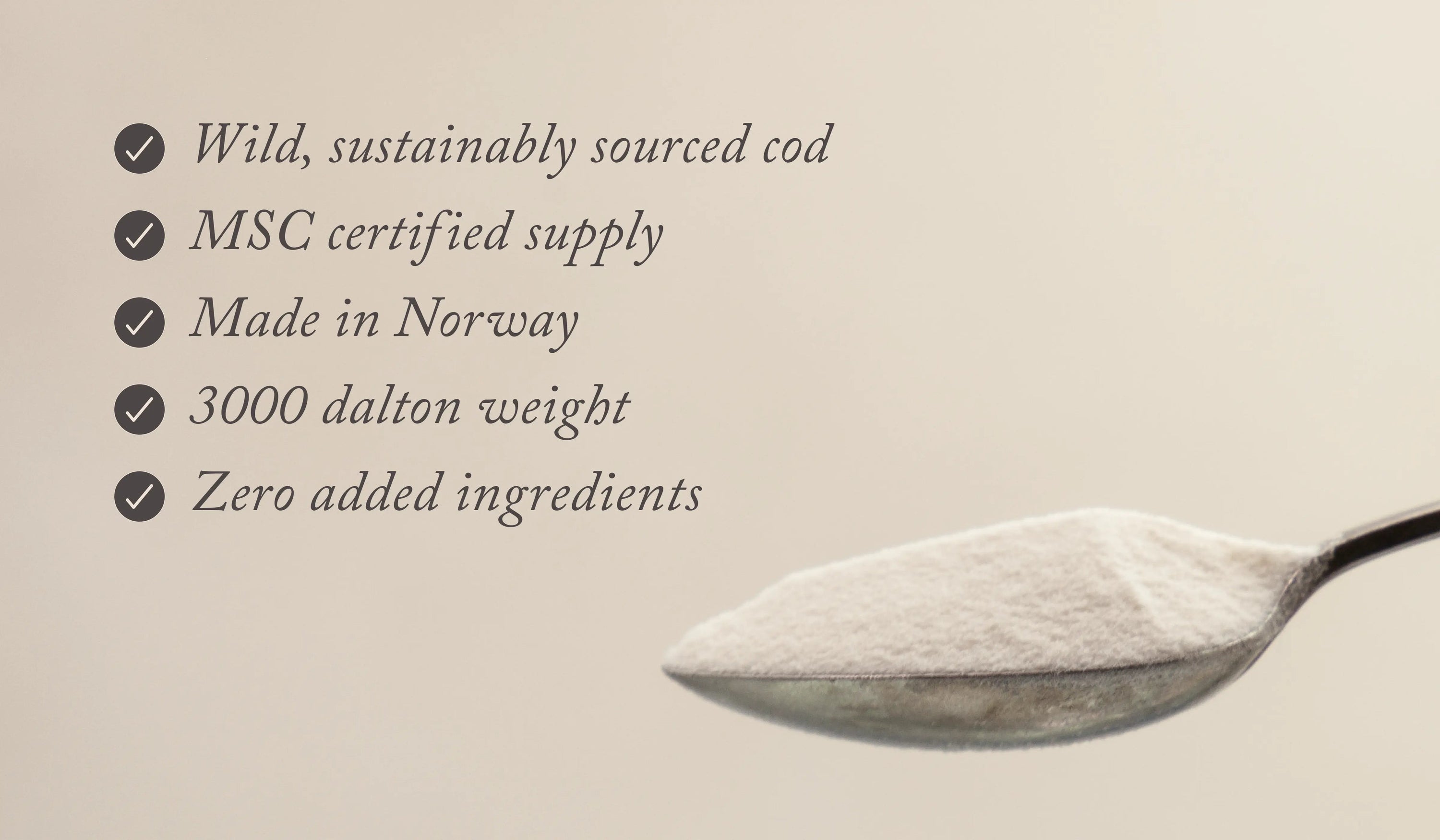 Pure Marine Collagen Powder
Refresh your skin's collagen levels with our neutral tasting, super-fine powder that dissolves without trace in coffee and drinks. No added ingredients. Made from MSC certified sustainably sourced, wild Norwegian cod skin.
300g - 5g a day
5000mg type I collagen peptides per 3 teaspoons
Great for adults (including husbands) and in pregnancy
Earn Flourish points with this purchase
Full Ingredients
Hydrolysed collagen peptides (sourced from pure marine codfish skin (Gadus Morhua))
Nutritional Content (per 5g serving): 
Hydrolysed collagen
5,000 mg
| | | |
| --- | --- | --- |
|   | Content g/100 | Per serving g/5g |
| Energy kcal/kj | 389/1634 | 19.45/81.7 |
| Protein | 95 | 4.75 |
| Fat | 0.5 | 0.025 |
| Carbohydrate | 0 | 0 |
| Salt | 1 | 0.05 |
| Sodium | 0.5 | 0.025 |
Current batch: 101429, expires 26/06/2025.
It's always good to check with your doctor before taking supplements like this one if you: are on any medication, have health concerns or conditions, are pregnant or breastfeeding.

Collagen can affect serotonin levels. If you have a history of mental health concerns or are currently taking antidepressants, consult a qualified healthcare professional.

Keep somewhere cool, dry and out of kids' reach. No need to refrigerate but don't leave it in the sun on a windowsill.
Allergy advice: Fish and may contain traces of Shellfish.
Not suitable for people with Fish or Shellfish allergy.
Halal certified. 
For more information download our Allergen Statement
Nothing to hide. Download the reports.
Skinful Pure Marine Collagen Powder
Quickly and easily absorbed
The body can absorb our hydrolysed collagen peptides (meaning tiny fragments) and free amino acids with a very low molecular weight of under 3,000 Daltons.
Wild, certified sustainable fish
Our Norwegian manufacturer only uses MSC certified, wild codfish from the North Atlantic using the discarded skin from fish fillets. Sustainable and waste reducing.
Recommended by nutrition experts
We estimate over half of all our sales come from nutritonal therapist and health expert recommendations.
Nothing to hide
We test all our products for purity, including heavy metals such as mercury, and you can download the results for yourself.
No added ingredients
Just pure, unflavoured, extremely fine and dissolvable collagen which you can add to any drink (ideal in coffee) without noticing it's there.
For people & planet, by people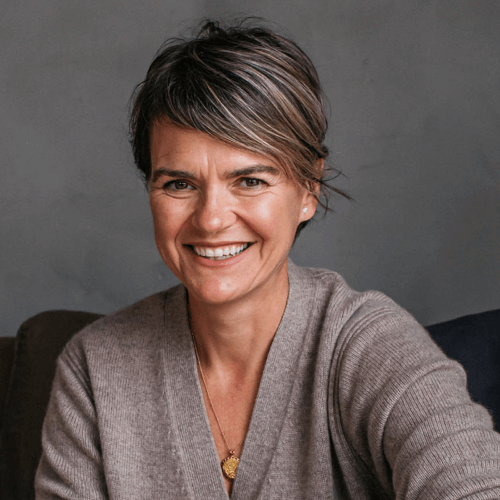 100% UK family owned
We're a small, founder-led business with no investors to keep happy. We run the business with our customers at its heart and with a human touch.
Stellar customer service
You're the most important part of our business and we'll always look after you. You'll never read a bad review about our customer service.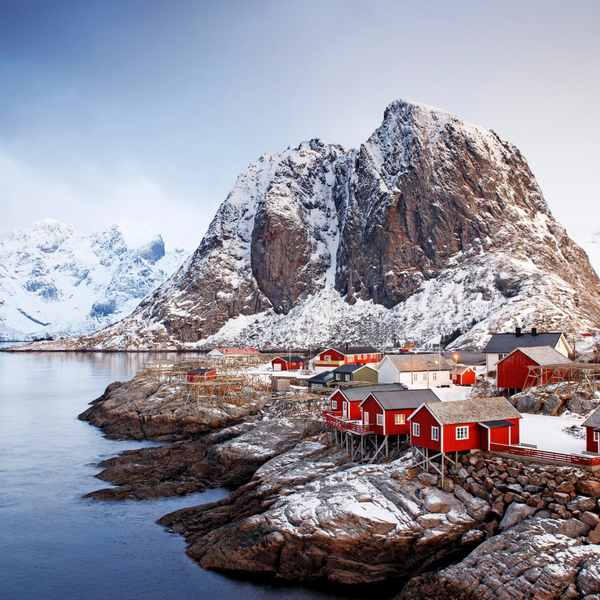 Sustainable, of course
From certified sustainable wild fish to compostable and recyclable packaging, and a UK & Norway based supply chain, we do business with care and consideration. 
Reviewing

Skinful Pure Marine Collagen Powder

What is your gender?

Female

Why do you take Bare Biology supplements?

Skin health,

Menopause support

Excellent results

I noticed a difference in my nails and my skin within a very short time. My nails have stopped splitting, and my skin has become less crepey over time.

Reviewing

Skinful Pure Marine Collagen Powder

What is your gender?

Male

Why do you take Bare Biology supplements?

General wellbeing

Excellent Product

Have it every morning with my coffee and I can see the benefits

Reviewing

Skinful Pure Marine Collagen Powder (6 Pack)

Skinful pure marine collagen powder

I spent some time looking at numerous reviews for collagen products and this company stood out. Like the idea that company is keen about sustainability. The powder mixes well in hot drinks with just a faint taste, so very easy to incorporate in to your daily routine. Skin feels better / clearer but I'm mainly taking it for joint health.

Reviewing

Skinful Pure Marine Collagen Powder (6 Pack)

Fantastic collagen

My sister in law gave me a tub to try as I'd not been happy with another brand. Three weeks later, I ordered a 6 pack for myself. If you have sensitive tastebuds it will have a slight taste and unfortunately coffee was not the one for me but now that I've found something else to take it with, I'm very happy. No upset tummy and noticing results already :) perfect!
Reviews Loaded
Reviews Added
This is a great recipe to try if you're new to using collagen powder. It's such an easy way to weave a dose of collagen peptides into your daily routine,...
We tick all these boxes, and more, so you can relax
Quality, purity and efficacy in everything we make for you