You take your folic acid religiously, have a healthy diet and won't let a morsel of unpasteurised brie pass your lips. But are you getting the right amount of omega-3?
From that positive test right through to breastfeeding, omega-3 fatty acids are great while you're expecting. But more importantly, they play a crucial role in the growth and development of your baby. In a nutshell, DHA (a type of omega-3) is essential for the proper growth and development of babies' eyes and brains. Our brains are 60% fat and around 20% should be made of omega-3 fatty acids.
What is omega-3?
There are three main types of omega-3 fatty acids: alpha-linolenic acid, (ALA) found in supplements and plant foods like flaxseed and chia seeds, eicosapentaenoic acid (EPA) and docosahexaenoic acid, (DHA) found mostly in animal sources such as oily fish. Some of the best Omega-3 foods for pregnancy include mackerel, salmon and sardines.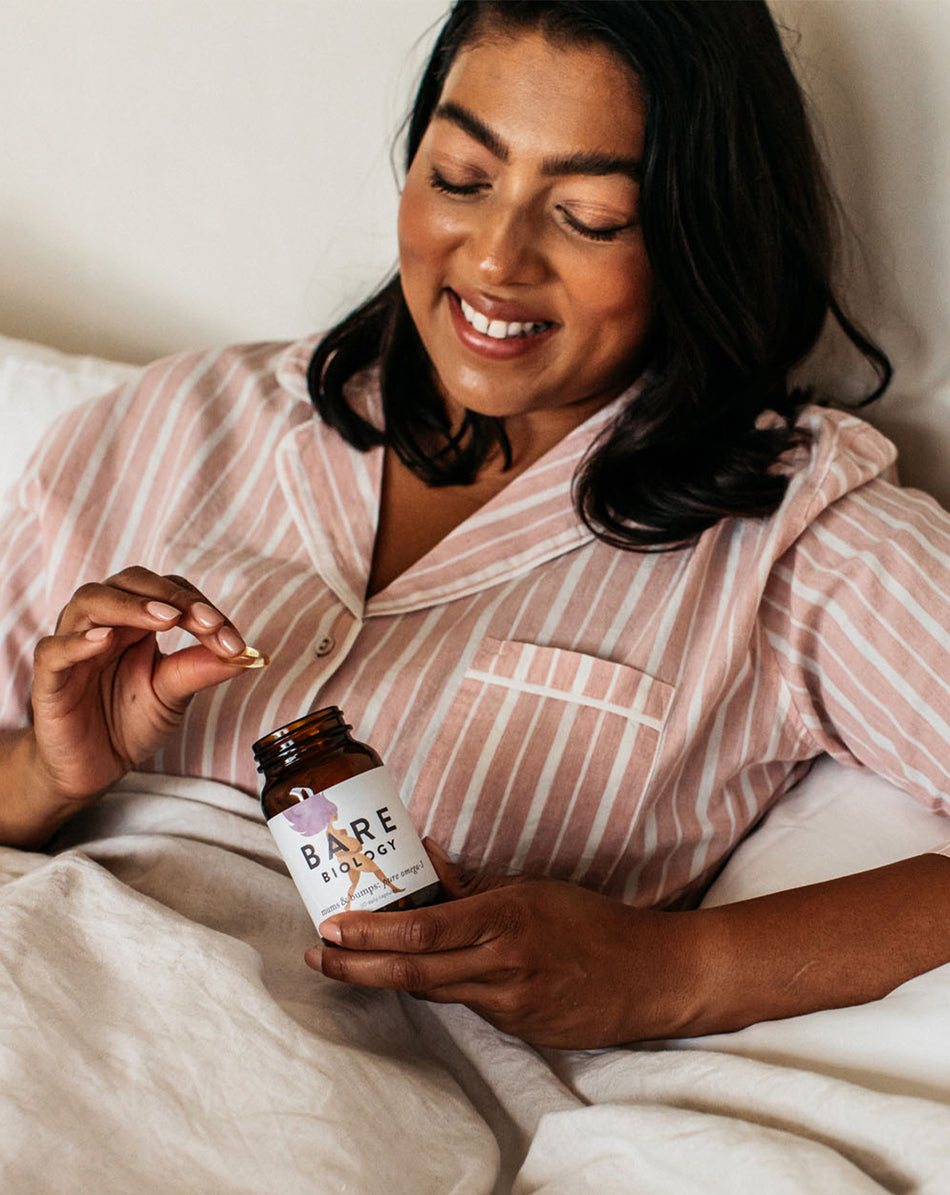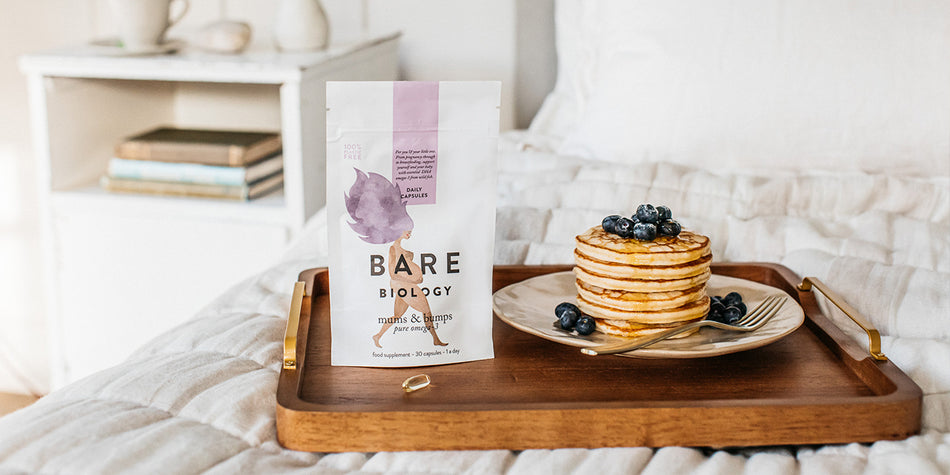 Is omega-3 good in pregnancy and what makes it so important?
As Dr Alex Richardson, senior research fellow at the University of Oxford, says "Everything that is needed to build the baby's body and brain comes from mum. Particularly important and most likely to be lacking from many women's diets these days are long-chain omega-3 fatty acids in fish and seafood."
She's right. DHA is essential for the growth and development of babies' eyes and brains. Our brains are around 60% fat and around 20% of your little one's grey matter should be made of omega-3 fatty acids.
Why take omega-3 capsules during pregnancy?
You may be sold on the benefits of fish oil and pregnancy but between morning sickness, cravings and the sheer exhaustion of growing another human, there will be days (hello, morning sickness) when the last thing you feel like doing is eating (or even making) a big mackerel salad.
There's also the worrying question of how eating certain omega-3 fatty acid foods during pregnancy such as oily fish could expose your precious, growing baby to pollutants like mercury, dioxins and PCBs. For that reason, the NHS currently advises expectant mothers to eat only two portions of fish such as fresh tuna, salmon or sardines, meaning some of the best omega-3 fatty acids foods for pregnancy are off the daily menu.
That's why taking the best fish oil supplement for pregnancy you can find is such a good idea. Choosing one that is pure, safe and publishes its test results, such as Mums & Bumps capsules, means you'll be able to meet your pregnancy omega-3 dietary requirements, in a form that's both easy to take and free from harmful toxins.
Can I take omega-3 in pregnancy?
You can. Choose one that contains a lot of DHA and make sure it's omega-3 fish oil as opposed to cod liver oil. Omega-3 fish oil is extracted from the flesh of fish and is rich in fatty acids such as EPA and DHA. However, cod liver oil is taken only from the liver and contains less omega-3s but is rich in Vitamin A - too much of which can be toxic to your unborn child.
Is omega-3 fish oil safe during pregnancy?
Omega-3 fish oil supplements are safe to take in pregnancy, but remember to tell your doctor or midwife that you're taking them and buy the purest one you can find. Mums & Bumps capsules are mercury free, come from wild fish plus every batch is certified and awarded a 5-star purity and quality rating from International Fish Oil Standards (IFOS).
What role does omega-3 play in your baby's development?
According to Dr Alex Richardson, senior research Fellow at the Centre for Evidence-Based Intervention at Oxford University, the diet of pregnant mums can have a "lifelong impact on their child's health and development".  
The EFSA (European Food Safety Authority) has approved the positive scientific view that there is a clear cause and effect relationship between taking DHA supplements and normal brain development.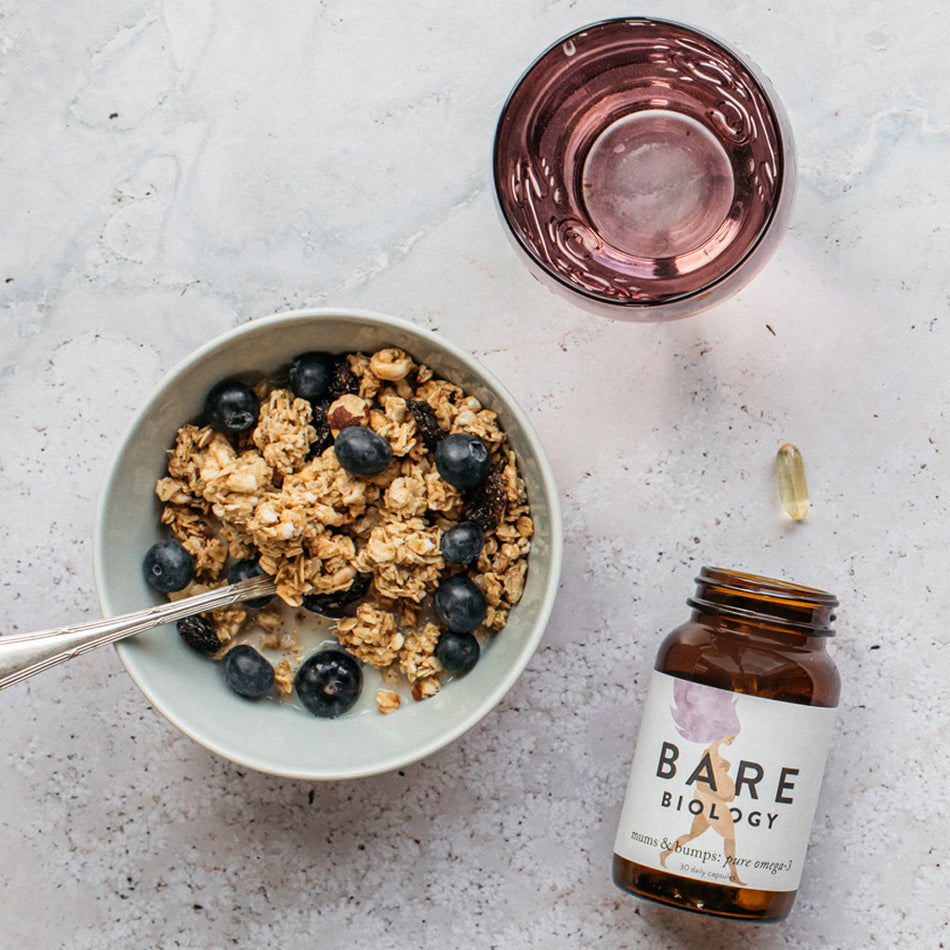 When should I start taking omega-3 during pregnancy?
As with folic acid, it's a good idea to start taking an omega-3 fish oil pregnancy supplement before you even get that exciting extra line on your pregnancy test.
Taking omega-3 before pregnancy, some six months before you conceive, allows the body to build up its stores of essential fatty acids. And you're going to need them right from the start. Taking fish oil during pregnancy's first trimester is vital, because the brain and nervous system is one of the first things to develop in your tiny embryo.
You should keep taking omega-3 throughout your pregnancy and beyond. Because your body will prioritise your own DHA for the baby's brain and eyes to develop, just being pregnant can deplete your own stores of omega-3 fatty acids. That's why it's a good idea to keep taking it after giving birth, even if you're not breastfeeding.
How much omega-3 should you take in pregnancy?
According to the European Food Safety Authority, the minimum dietary goal for pregnant women is a daily intake of 200mg of DHA on top of the normal, recommended daily intake for adults of 250mg of both DHA and EPA. At Bare Biology, our Mums & Bumps fish oil contains 560mg DHA in one tiny capsule, so more than enough to support you and your growing bump, even if you aren't able to eat fish yourself.
Can omega-3 help with stretch marks?
Piles, indigestion, incontinence…pregnancy certainly has its less-than-glamorous side. And one that can be added to that list is stretch marks. These red, pink and even purple vertical lines can be sore and itchy when they first appear, but fade over time leaving white, shiny scars.
During pregnancy, your rapidly expanding uterus stretches the skin on your tummy, disrupting the collagen and elastic fibres in your dermis, making them weaker and less elastic. When this connective tissue is stretched to breaking point, you start to see deeper layers of your skin's connective tissue through the gaps and et voila, a stretch mark appears.
Of course, stretch marks can occur at any time of dramatic weight gain but hormonal changes in pregnancy make them even more likely. Certain hormones such as glucocorticoids, essential for normal foetal growth, are actually thought to suppress the production of collagen.
Taking omega-3 supplements during pregnancy may have the added bonus of moisturising skin from within, helping to keep it supple.
Is it OK to take omega-3 during the third trimester?
Although it may be tempting to grab whatever's easiest, feeding your body with the right nutrients is vital during the third trimester, when the largest amount of baby brain development takes place.
Should you take omega-3 while breastfeeding?
You can, and extra omega-3 is good for you too. When breastfeeding, your own stores of omega-3 can dwindle.
What is the best omega-3 supplement for pregnancy?
A supplement that contains a lot of DHA will be the best fish oil for pregnancy. And make sure you look out for one that's free of mercury, metals and other toxins, which can damage a developing baby's nervous system. The Scientific Advisory Committee on Nutrition and Committee on Toxicity's advice on eating fish while trying to conceive, during pregnancy or breastfeeding, is to avoid shark, swordfish and marlin completely because they contain more mercury than other types of fish.
Make sure you buy a safe and pure supplement that publishes its test results and has third party certification, such as Mums & Bumps fish oil capsules.